I
finally
have pictures for you guys. :3
The cable we bought for my camera last week didn't work, so we spent most of the weekend looking for one that would. Wound up going to Walgreens and buying another camera just like the one I have and getting the cable from that one. Mom's happy about it, though; she's got her own camera to use for work now, so she doesn't have to ask me if she can use mine all the time.
So, photo time~ Definitely an image-heavy entry, this is.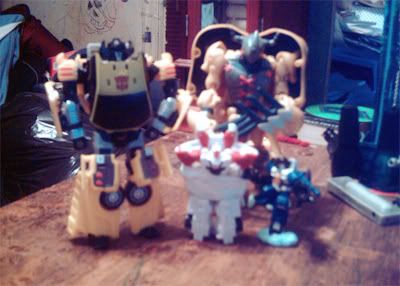 Sunstreaker:
Attention, Kirii. We have taken Red Alert and we will not return him until you get me a Sideswipe.
A couple weeks later, I finally get a Sideswipe and Ratchet shows up to exchange Sideswipe for Red Alert.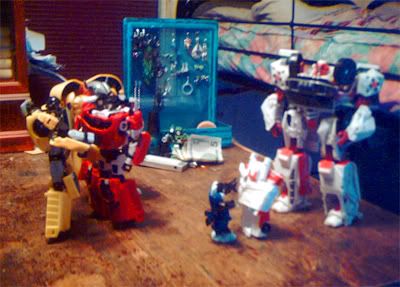 Sideswipe goes to Sunstreaker and Red Alert goes to his mommy. There is much happiness. Except, of course, in the case of my wallet.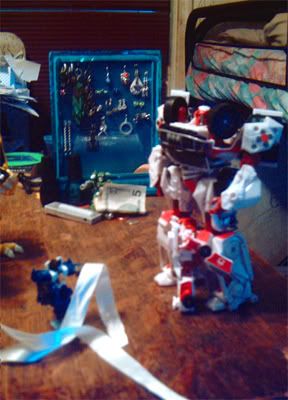 Red Alert is never letting go of Ratchet. Ever again.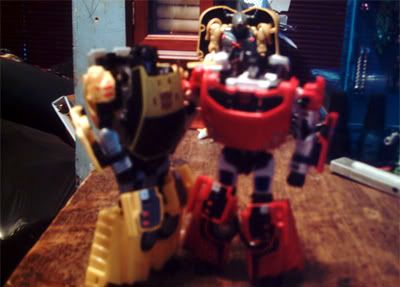 And the twins are together and happy. They are both forever banned from the shelf and are remaining on my dresser. It's for their own good. Ironhide is most unpleased with Sunstreaker for taking Red Alert.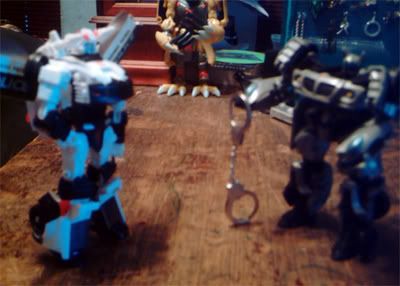 Jazz:
Hey, Prowl~ Look what I found in Kirii's jewelry box. >3
Prowl:
...
Jazz then starts persuading Prowl to let him make use of my mini-cuffs.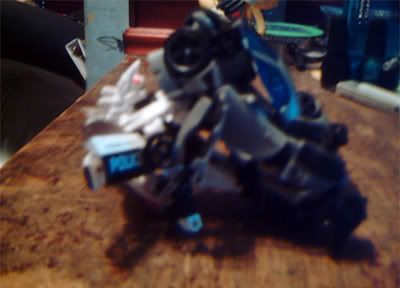 Probably the worst picture of the bunch, but yes, Prowl is the one in the cuffs for once. :P Jazz is enjoying it, of course.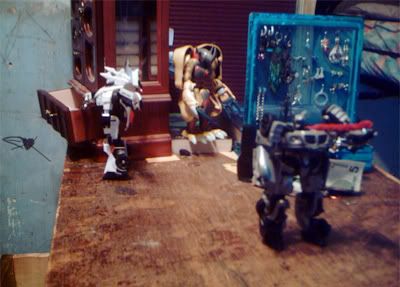 Jazz enjoys an after-interface piece of licorice (that is really a red pipe-cleaner because I didn't have any licorice on hand at the time). Prowl returns my mini-cuffs to where Jazz found them.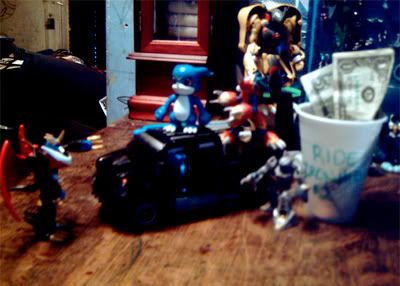 Ironhide is *not* a carnival ride. But Mini-Jazz takes advantage of him while he's asleep anyways. :P And, hey, it pleases the Digimon~
More to come later. Sunstreaker wants to show off his "Lamborghini Parking Only" sign. :P
Tags: photos
Current Music: Super Junior: Twins (Knock Out)